"Since wars begin in the minds of men and women, it is therefore in the minds of men and women that the defenses of peace must be constructed."
Vision:"A learning, cultured, informed and peaceful nation"
 Mission:To provide intellectual leadership, influence policies and actions in Education, Sciences, Culture and Communication and Information for peace and sustainable development.
The Mandate: The UNATCOM is mandated to work with individuals, institutions, bodies, agencies and departments that exist locally and internationally……
UNESCO has now opened its call for applications and nominations for the 2020 UNESCO International Literacy Prizes. This year UNESCO will reward five individuals or organizations around the world for their outstanding projects that promote literacy within the theme 'Teaching and learning literacy: the role of educators and changing pedagogies'.
ESD (Education Sustainable Development)
Education is the key to development. In this respect Uganda has put in place policies and strategies aimed at providing every citizen at all levels, with an education that is holistic, relevant and of good quality. Issues of development have always been around us. The concept of "sustainable development' is not entirely new.
What is Global Citizenship Education (GCED)?
This refers to a way of understanding, acting and relating one's self to others and the environment, based on universal values, through respect for diversity and pluralism.
The core themes of GCED are tailored around the culture of peace; Peace, Human Rights, Globalization, Cultural,  Diversity, Sustainable development.
Appointment of Dr Salim M. AlMalik as new ICESCO Director General
Dr Salim M. AlMalik was appointed as the new Director General of the Islamic World Educational, Scientific and Cultural Organization (ICESCO), following the nomination of the Kingdom of Saudi Arabia and the approval of the Third Extraordinary Session of ICESCO General Conference, held 9th May 2019 at Bay La Sun Expo Center in King Abdullah Economic City in the Area of Makkah Al- Mukarramah, Kingdom of Saudi Arabia.
As of 9 May 2019, Dr Salim M. AlMalik will replace Dr Abdulaziz Othman Altwaijri as Director General for the remaining period of his mandate, and will serve a new term ending on 31 December 2024.
The UNESCO Associated Schools Network (ASPnet) links educational institutions across the world around a common goal: to build the defences of peace in the minds of children and young people. The over 11,500 ASPnet member schools in 182 countries work in support of international understanding, peace, intercultural dialogue, sustainable development and quality education in practice.
ASPnet – a driver for innovation and quality in education – is recognized as an effective tool for reaching target 4.7 on Global Citizenship Education (GCED) and Education for Sustainable Development (ESD) of Sustainable Development Goal 4 – Education 2030.
Latest News
The Permanent Secretary of the Ministry of Education and Sports, Mr. James Kakooza has officially handed over the educational content creation toolkit to 6 beneficiary […]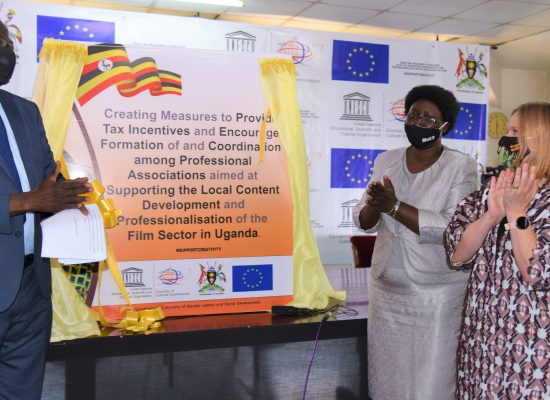 The Government of Uganda through the Ministry of Gender, Labor and Social Development has partnered with the European Union (EU) and UNESCO in a joint […]
Following a devastating fire on 5 June 2020 at the World Heritage property of the Tombs of Buganda Kings at Kasubi in Uganda, UNESCO, through the Heritage Emergency […]
See all our news